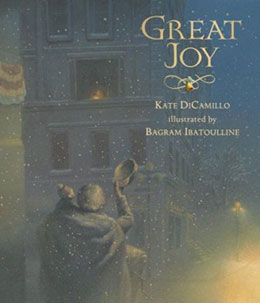 illustrated by Bagram Ibatoulline
Candlewick Press, October 2007
Picture book, ISBN 978-0-7636-2920-5
It is just before Christmas when an organ grinder and monkey appear on the street corner outside Frances's apartment. Frances can see them from her window and, sometimes, when it's quiet, she can hear their music. In fact, Frances can't stop thinking about them, especially after she sees the man and his monkey sleeping outside on the cold street at midnight.
When the day of the Christmas pageant arrives, and it's Frances's turn to speak, everyone waits silently. But all Frances can think about is the organ grinder's sad eyes—until, just in time, she finds the perfect words to share.
Newbery Medalist Kate DiCamillo pairs once again with acclaimed artist Bagram Ibatoulline as she presents a timeless story of compassion and joy.
This simple but powerful story will indeed bring the reader great joy. (Kirkus Reviews, starred review)
Ibatoulline's evocative artwork moves [the story] to a higher level. The setting is the 1940s, and the art captures the time beautifully. (Booklist, starred review)
The plotline is simplicity itself, and the text lacks any sentimentality or fluff, allowing the acrylic paintings, reminiscent of Norman Rockwell's work in their warmth and realism, to enrich and expand the story. (School Library Journal, starred review)
Newbery Medalist DiCamillo spins a tale of compassion and holiday warmth. (Publishers Weekly, starred review)