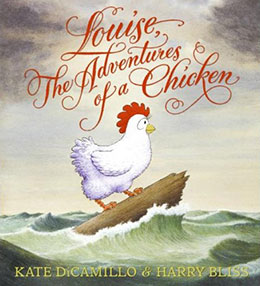 Louise, the Adventures of a Chicken
illustrated by Harry Bliss
Joanna Cotler/HarperCollins, September 2008
Picture book, ISBN 978-0-0607-5554-6
She longed for adventure.
So she left her home and ventured out into the wide world.
The pleasures and perils she met proved plentiful: marauding pirates on the majestic seas, a ferocious lion under the bright lights of the big top, a mysterious stranger in an exotic and bustling bazaar.
Yet in the face of such daunting danger, our heroine . . .
She was brave.
She was fearless.
She was feathered.
She was a chicken.
A not-so-chicken chicken.
Her name?
A picture book in four chapters in which a thrill-seeking chicken repeatedly leaves the warm security of her henhouse seeking excitement. She is captured by hungry pirates, survives a sinking ship, joins the circus, narrowly escapes a lion, is caged with other chickens, picks the lock with her beak, and liberates her fellow captives. Back home in her barnyard, Louise enthralls her sister chickens with the story of her grand exploits, until all fall asleep tucked safely in their henhouse, having felt the vicarious frisson of adventure. In the nicely patterned telling, DiCamillo ends each of Louise's escapades with an old hen asking her where she has been. "Oh, here and there," is Louise's casual answer. Each new chapter begins with the bold brooder still eager to embark anew. Bliss's illustrations depict the settings of Louise's capers in vague antique worlds with various backdrops and in various eras. On every spread, Louise's bright white feathers and brilliant red cockscomb will stand out and draw the eyes of young readers. Smart choices in book design allow for an oversize book that suits its larger-than-life heroine, and vertical spreads that capture Louise's circus high-wire walk to maximum visual effect. This is a jolly metaphor for the stages of childhood in which young children long for short-lived independence and exploration always within the reassuring bounds of a secure home and family. (School Library Journal, starred review)
DiCamillo's brisk, comic narrative crackles with read-aloud savoriness. Bliss creates a thrilling sense of place. (Publishers Weekly, starred review)
No longer satisfied with her cozy coop, Louise the chicken sets off in search of adventure. In three distinct chapters, she finds it: on a pirate ship, where she's nearly stewed with dumplings until a storm drowns her crew; at the circus, where she plunges from the high-wire and escapes a lion's jaws; and at a "fabulous bazaar," where a fortune-teller's warning to beware a dark stranger leads to terrifying imprisonment and escape. After each foray into the world, Louise returns to the safety of her farm, until wanderlust hits again. In the final chapter, though, she stays home and shares her tales with the other chickens, who, just by listening, become travelers, too. The episodic pacing is abrupt, but the narrative—filled with rhythmic, repetitive phrases ("the deep and dreamless sleep of the true adventurer" is an appealing refrain)—will read aloud well to a crowd, who will also enjoy Bliss' illustrations, in which bright-white Louise stands out against humorous, action-filled scenes. The message about the transporting power of stories deepens this enjoyable, farcical adventure. (Booklist)