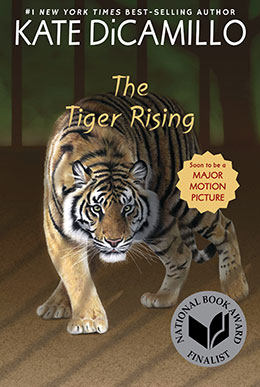 Candlewick Press, 2001
Ages 9-12
ISBN 978-0-7636-0911-5
Walking through the misty Florida woods one morning, twelve-year-old Rob Horton is stunned to encounter a tiger—a real-life, very large tiger—pacing back and forth in a cage. What's more, on the same extraordinary day, he meets Sistine Bailey, a girl who shows her feelings as readily as Rob hides his. As they learn to trust each other, and ultimately, to be friends, Rob and Sistine prove that some things—like memories, and heartaches, and tigers—can't be locked up forever.
Book Sense 76 Top 10 Picks
Book Sense 76 selection
National Book Award for Young People's Literature finalist
Oppenheim Toy Portfolio, Gold Award
Parents' Choice Award
A multifaceted story with characters who will tug at readers' hearts. Rob and his father moved to Lister, Florida, to try to begin life anew without Rob's mother, who recently died from cancer. The boy goes through his days like a sleepwalker, with little or no visible emotion. "He made all his feelings go inside the suitcase; he stuffed them in tight and then sat on the suitcase and locked it shut." His sadness permeates the story; even the weather, with its constant dreary drizzle is sad. With the arrival of a new student, Sistine Bailey, Rob's self-contained world begins to crumble. He and Sistine are both friendless and victims of the cruelty often shown outsiders at school. When the boy finds a caged tiger in the woods, he recognizes a similarity between himself and the animal. Then the sleazy owner of the motel where Rob and his dad are living gives him the responsibility of feeding the creature, and Rob realizes he finally holds in his hands the keys to freedom. Quotes from William Blake's "The Tiger" intimate themselves into the narrative and set the tone. It deals with the tough issues of death, grieving, and the great accompanying sadness, and has enough layers to embrace any reader. (School Library Journal)
DiCamillo's second novel may not be as humorous as her debut, Because of Winn-Dixie, but it is just as carefully structured, and her ear is just as finely tuned to her characters. In the first chapter, readers learn that Rob lost his mother six months ago; his father has uprooted their lives from Jacksonville to Lister, Fla.; the boy hates school; and his father's boss, Beauchamp, is keeping a caged wild tiger at Beauchamp's abandoned gas station. The author characterizes Rob by what he does not do ("Rob had a way of not-thinking about things"; "He was a pro at not-crying"), and the imprisoned tiger becomes a metaphor for the thoughts and feelings he keeps trapped inside. Two other characters, together with the tiger, act as catalyst for Rob's change: a new classmate, Sistine ("like the chapel"), who believes that her father will rescue her someday and take her back to Pennsylvania, and Willie May, a wise and compassionate woman who works as a chambermaid at Beauchamp's hotel. The author delves deeply into the psyches of her cast with carefully choreographed scenes, opting for the economy of poetry over elaborate prose. The climax is sudden and brief, mimicking the surge of emotion that overtakes Rob, who can finally embrace life rather than negate it. DiCamillo demonstrates her versatility by treating themes similar to those of her first novel with a completely different approach. Readers will eagerly anticipate her next work. (Publishers Weekly)