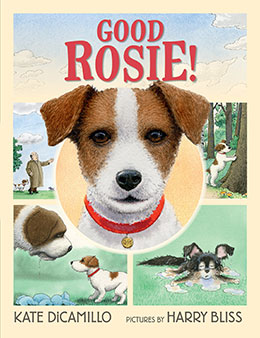 illustrated by Harry Bliss
Candlewick Press, September 4, 2018
ages 5 to 8
Picture book, ISBN 978-0-7636-8979-7
Storyteller Kate DiCamillo and cartoonist Harry Bliss introduce some delightfully doggy dogs in a warm, funny tale of a timid pup who needs a friend.

Rosie is a good dog and a faithful companion to her owner, George. She likes taking walks with George and looking at the clouds together, but the closest she comes to another dog is when she encounters her reflection in her empty dog bowl, and sometimes that makes Rosie feel lonely. One day George takes Rosie to the dog park, but the park is full of dogs that Rosie doesn't know, which makes her feel lonelier than ever. When big, loud Maurice and small, yippy Fifi bound over and want to play, Rosie's not sure how to respond. Is there a trick to making friends? And if so, can they all figure it out together?
ALSC Notable Children's Books
Junior Library Guild Selection 
Cartoonist Bliss' humor shines as it works with DiCamillo's understated text. Subtle lessons about entering a new and unfamiliar territory, finding companions, and the value of a friendly, approachable attitude are all conveyed with a delicate touch. Good Rosie—good story. (Kirkus Reviews, starred review)
DiCamillo's deep empathy for her shy, lonely protagonist will come as no surprise, but her portrayal of Rosie as genuinely puzzled by the mechanics of friendship is particularly astute. Bliss (Diary of a Worm) works in a paneled comics format, and it proves felicitous for his formal drawing style and deadpan humor. This is no shaggy dog story—it's thoughtful and funny, and a real gift for emerging readers. (Publishers Weekly, starred review)
DiCamillo's contemplative, understated text perfectly complements Bliss's elegantly composed watercolors. Forging new bonds can be both tantalizing and overwhelming, they acknowledge, but children will feel up to the challenge after seeing Rosie conquer her anxieties. A superb friendship story and a lovely choice for one-on-one sharing, especially with little ones with first-day-of-school jitters. (School Library Journal, starred review)
Short, episodic chapters and a gentle plotline make this winsome graphic novel particularly well suited to early readers…With humor and heart, this easy, inviting volume offers an empowering message to little ones nervous about making new friends. (Booklist)
Comic-book panels, with a mixture of easy narrative text and balloon dialogue, make the book a good choice for new readers, and Bliss's crisp line-and-watercolor illustrations are lovingly attentive to real dog postures and poses … DiCamillo—casually, expertly—drops musings about the quirks and turns of friendship into the deceptively straightforward story. (The Horn Book)
This full-color story will be a winner with young readers, the small details in the illustrations allowing each reader to discover ways to make this simple story come alive. (School Library Connection)